12-09-2008
...ham crisis, sausage crisis, baccon crisis, pudding crisis! In fact pork crisis!
This are the live related events:
-On friday 4pm i go to Tesco for my weekly shopping, there is not more ham at 2.09euro on "tesco value" brand name, It makes me rageous (moreover there is no more "soft and creamy" cheese (my new drug)). I have to buy sausage, this is the crisis.
-On saturday 8pm, my roomate is on panic, she told me there is dioxin in pork, that it is dangerous, that all supermarkets shops recall pork product. I dont believe her she is American (they scare easily, oops i have a bomb in my hand bag, this dont make them laugh, they are not funny). It it the crisis for her.
-On Sunday 1am, I ckeck on internet cause I am a bit worry, I ate a Irish breakfast this morning with 2 sausage, and may be my american roomie is true...she is true...it is the crisis.
-On Sunday 12 am, I wonder what will he eat, if not pork, i dont eat red meat, I'll be veg again, I have a tantrum (in French "to make a crisis"). Then i say fuck off to the pork crisis and eat 2 sausages.
-On monday 9am, they found the dioxin source of infection, and they think we will believe them since spetember it is infected, they found it only on saturday and then were able to find the infection factor in 2 days. This is a crisis tactic...
-On Tuesday 2pm, 1000 of pig meat workers face loosing their job, this is the unemployment crisis
-On Tuesday 3pm, Tesco doesnt to refund pork product out of their own brand name, it is illegal, this is a legal crisis
-On Wenesday, Metro newspaper said "Toxins in cows at "safe levels"".....no comment....it is definitivly the meat crisis...forunately I didnt panic....
Did I tell you it was the crisis?
A remix from Put your hands up in the air :
At Atkinson hotel
With my silly mind, I was imagining all the evening of the catastroph scene, if the girls were about to knock the audience, very near from the stage, and then knocking their head, cause jumping too close from ceiling...
Look a bit like weird flamenco...
12-03-2008
Metro, Tuesday, December 2
Autumn was the coldest in 15 years
"This year's autumn was the coldest in up to 15 years. As december arrived with a chill (where and when??),
Met Eireann (guess the ones from forecast) said average air temperatures over the last three months were below normal in many places (no really?). September temperatures were near normal, but October was cooler than usual everywhere (I agree, also in the house!), while November was relatively mild except for the last few days which saw widespread and severe frost. But despite the gloomy weather at the start of the season, sunshine levels were higher than normal everywhere, with September and October realtively bright while November was generally dull. But keep wrapped up warm (yeah i didnt plan to wear my bikini), as the cold snap is set to continue for the rest of the week."
Metro october 30
11-30-2008
Only twice a month as brunch...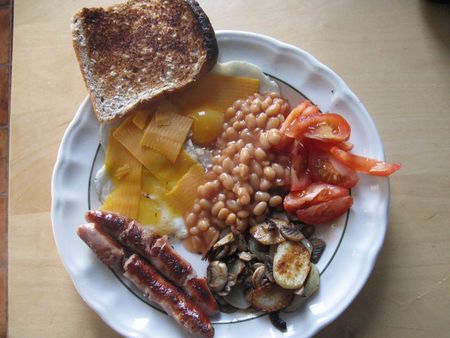 Irish breakfast
Did it by myself, yeah yeah, so complicated, and really healthy, so here is the recipe, only for pure non veg (Sorry Anu n Sandy):
-2 Sausage (full of fat if possible)
-Transgenic mushrooms
-Fried potatoes
-Sweet beans in sugar and tomato sauce
-2 eggs
-Recomposed cheddar
-Toasted bread
-And GMO tomatoes, for the fresh vegetable
-Et voilà!
Hum Bon appétit!!
11-18-2008
Jean Louis Etienne (polar french explorator) made a paper about, but me I'll tell you about my experience or what do Irish people to keep fresh warm:
-Have a nice fresh bath every day, and swim somes 1-2 miles (no need to precise that the water is at a maximum of 16 degree), some exercise can keep you warm...
-Look for a free museum so that u can stay in a warm place. Try to find an interesting one if posible. This is what I did, as I visited the archeological museum of Irland (free and this is an exception in Irland). Very interesting, i let the first floor for the next time (viking times). But interesting to see how bodies are well preserved in peat bogs...
-Try a traditional irish warm dish, like for example Irish stew (burps). I was not so gambling girl in trying the true traditional one with lamb. But even in taking the beef irish stew, it was stinking tasting like lamb. Looking like a "boeuf bourguignon" (sort of french braised beef), same than France with the fat and all!
-Then finish your day in cosy pub, feeling like in your living room with Irish friends and 2 glasses of Bayleys on the rock...
Next time I'll tell you how Jean Louis Etienne is true in his advices to deal with cold weather and about the "windchill"...
11-12-2008
I never introduced you to our host, so here they are, Dan and Gayl and their 2 twin girl.
All very busy, that we never can catch them in the house, but today it is Dan who caught me in the hall, and so 1hour chating about travels and to finish he said me thanks...So all busy, they have a big house to manage, horses, and various activities. Look at the twin they play all the irish traditional instrument (i didnt shoot all: violon, piano...) and they are only 12...
They are twin, so it is not the same girl playing music...Look on the harp this is Irish harp like the one u can see on an irish coin.
11-09-2008
And happy birthday to me, yeah I know I m so french, it is why i cooked french food on saturday dinner for 6 people in which 5 are men...So i started cooking on friday evening, this was the menu:
-Tourrain (onion and garlic soup)
-Gratin dauphinois (sort of potatoes pies)
-Quiche lorraine
-And milla (pumkin cake with orange taste, this is my touch)
We finished everything, so after the 3 wine bottles we decided to go to the next door pub, the irish cultural centre. We were lazy in walking in front the wind with 5° and to miss the last Dart (Dublin train) at 11.30pm. But there was nobody, ok not exactly, it was crowd with old people playing or listening traditional irish music.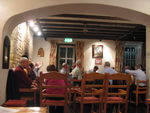 They were looking at us as we were disturbing the week cultural amusement at a old people's home...The worse of the show, but the best of the evening, was when a old man stand up, and started singing a traditional song at capela (everybody whispering shshsshs), and then burped in the middle of the song...how to not burst out laughing...those old people are so freak, Happy birthday again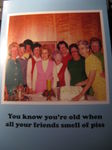 11-05-2008
On sunday I went to Howth, North county Dublin. A little firsherman harbour under a sunny sun (and some wind of course). I could see seals ( so cute) for the ever first time of my life, and lot of tourists too.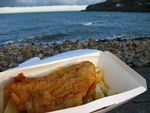 ..
I tried the the number one speciality over there : the fish and chips. And institution for people suffering of cholesterol, cirrhosis, jaundice, gastro enteritis, diabete, diet, or other liver afection, cause a fish and chips will end with you! It is haddock fish fried, and large pieces of french fries (not necesary to explain you that they are fried too), with a snow of salt, a rain of vinegar and a flood of tartare sauce...But I agree that it is delicious, really, fat and oily but nice to full and tasty.
11-02-2008
...like that
Moreover i saw some similarity in Irland and in India, even they have same flag colour, same letter begining, some times they have same way of thinking...
Look I wanted to buy a 1 week train card to feel free of moving. At the station the guy offered me, the "7 days card" or the "week card"....same price but to get the week card i should have gone to an other station, to give them 2.50 euro and an identification pic..even the guy told me it was totally silly...
...those are the last words we heard after our Halloween party at 4am. Of course it was not regarding us,
but about drunk people in the bus to come back home from the bus driver. Cops came to pick up the drunk ones in the bus, it was a truly mess. But let's try by the begining about halloween.
First during one week, I though that they stopped celebrating hall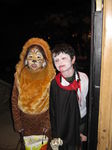 oween, no decoration, no pumpkins at the houses...but then on 31th, in few hours all houses have been decorated. Kids in costumes knocking to every doors with people waiting behind with a basket of sweet candies to give after the famous sentence: trick or treat? And for the older ones, costume even more excessive, imaginative...I felt like living in a weird wolrd, it was so fun and absolutely incredible: everybody in costume: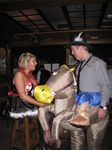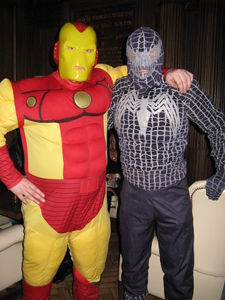 some heroes: Spiderman, Hulk, the mask, wonder woman, santa claus...
some things...: a beer bottle, mammografy scanner
some spooky ones: butcher, vampire, mummies, pope
some international: cheikh, japanese, andaluz, austrian
And a special word about ladies fancy dress...looking like going out directly from a blue movie, with skirt shorter than a panties, they want to wear a costume but still looking vulgar sexy than ridiculous, and moreover with 5°C they dont care catching cold. So there were the sexy rabbit, the hot nun, the naughty cop....and more than even the size of the costume was not enough to distinguish in what they were...